8 tips for a scorching hot (but Covid-safe) summer party – plus a ready-made healthy BBQ menu planner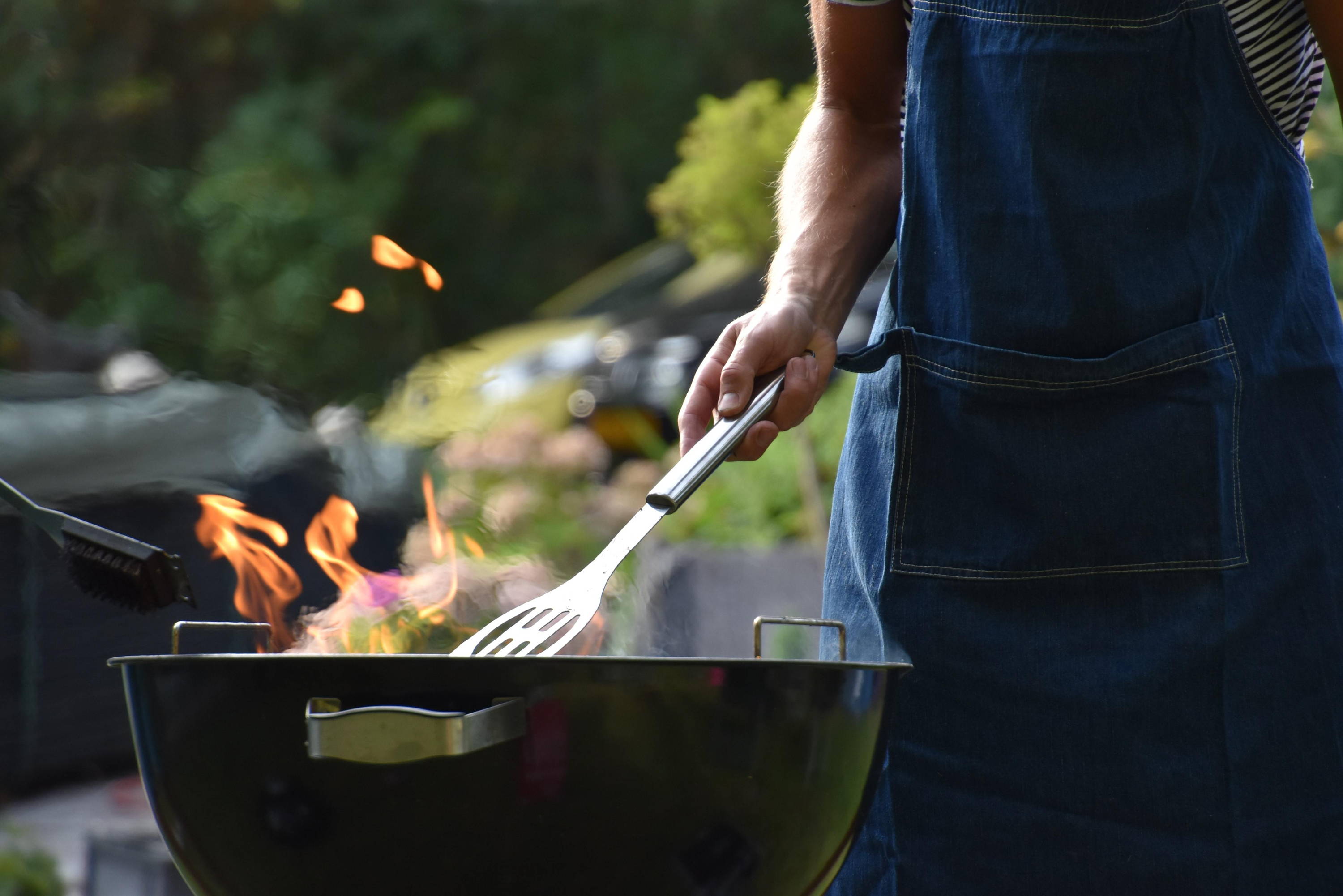 Who doesn't love a barbecue? Brits certainly do - in fact, 70% of us own an outdoor grill. Best of all, the government's rules mean you can now fire it up – woo hoo! But hosting these days isn't quite as simple as before. Not only are numbers limited – and it varies, depending which country you're in, so do check – but hygiene is now a major priority. So how can you make sure you have a safe BBQ that is both healthy and a whole lot of fun? Here are a few tips.
Tip 1: There's safety in (small) numbers.
This year's hottest gatherings will be intimate, which gives you the perfect excuse not to invite that annoying friend around: 'Sorry, mate. Coronavirus, innit?' .
Tip 2: Set up spaced-out seating.
Who knows exactly how wide two metres is, just by eye? Not us. That's why shops use those grubby floor-tape markings, which tend to make check-outs look like crime scenes. CSI is not a good look for a garden party, so after measuring out the distances between deck chairs and wooden benches, put stones or a circle of pebbles around them as markers, and let guests know you've done the measuring for them. Better still, use drinks buckets as markers. Get one bucket or cooler per guest, fill each with ice and bottles, then put a label with the guests' names on them. That can then be their own personal drinks supply for the afternoon – limits the spread of germs and saves you running around topping up everyone's wine, too.
Tip 3: Help them skip to the loo.
Unless your guests are camels, they will need to visit the WC. Clear a path so they don't have to open hall doors or slide the kids' Lego towers out of the way. Some guests might want to do a Mrs Hinch-style wipe-down before and after, so put a pack of biodegradable cleaning wipes by the basin. But definitely hide away your usual sharing guest towel. Instead, make like posh restaurants and provide a stack of face cloths for each guest to dry their hands on, with a laundry basket for used ones. Fancy! Or keep it simple with a roll of paper towels.
Tip 4: Stock up on alcohol! (erm, hand gel, that is.)
Tip 5: Say buh-bye to buffets.
Help-yourself buffets are out – trying to be a 'Diamond Princess' is so BC (Before Coronavirus). Individual menus are in. Not only is this crucial to limit the spread of germs, but if done thoughtfully, it's better for the environment – no more stale buns or bubbly coleslaw chucked in the bin after the guests finally leave. And it's better for your shopping bill, too, as you won't have to buy extra options 'just in case' someone is vegan, gluten-free, etc. Get on the phone or send an email (sample menu provided below). Tell your guest what you're thinking of making – burgers, steaks or kebabs - and ask them their preferences. It's best to stick to foods that either come fully sealed or that are cooked before eating to eliminate germs, so instead of a salad, for example, you could give them Salad Crisps instead. Each pack is a complete salad, but with the water taken out and then sealed in a container, so they're a safe option.
When it comes to snacks, sharing isn't wise right now, so take cheese boards, giant bowls of crisps and sharing dishes of olives and nuts off the menu. Instead, look for snack packs and single-servings. To avoid adding to the growing waste problem, go with options that come in biodegradable or fully recyclable packaging, such as Salad Crisps and Curry Crisps – the only crisps with 100% widely recyclable packaging and made in using 100% renewable energy.
Tip 7: No washing-up – hurrah!
What is the single worst thing about having people over? The washing-up. For once, you can skip this tedious task – guilt-free! - because the government says it's best that you don't hand out plates and glasses to guests. Stick to environmentally friendly disposable tableware, such as plates made from bamboo and compostable cups, then ask everyone to drop it in the bin or on your compost heap themselves. Easiest post-barbecue clean-up ever.
Tip 8: Have them round, rain or shine.
Whatever the weather – beaming sun or refreshing drizzle – providing a little outdoor shelter is a good idea. That way, your guests won't gravitate to your living room if the heavens open. Get a couple of patterned or coloured waxed tablecloths, put some holes in the corners and string them up between trees to create 'sail shades'. It'll brighten up the day, no matter what the weather.
The Healthy BBQ Menu Selector
Send this to your friends to make their choices. Wear clean food-prep gloves when making the food and putting into self-serve portions, particularly if it won't be cooked.